UI Milestones and more
Hello backers and friends of SwapBots,
It's a heatwave here in Liverpool but we're resisting the urge to sit under a shady tree to sweat it out on developing SwapBots. Here's what we've been doing during the last few weeks…
A major UI milestone
As documented in previous updates, the whole of the UI for SwapBots has been redesigned. This was for two reasons; firstly, the needs of contextual AR has required an all-new approach to UI. Secondly, the addition of non-AR modes and other new features have required new controls.
And, if we're honest, there was a lot of room for improvement. So that's a third reason to throw the previous UI out of the window.
However, our star designer Ste Chan has now completed all 2D UI elements. Although not every one has been implemented yet and all are subject to changes thrown up by usability testing, it's fair to say that we're making great strides on this.
Of course, we also require 3D UI for use in the contextual AR environment. This is the responsibility of our expert 3D artist Emily and is looking sweet.
The Hub takes shape
Speaking of 3D magic, The Hub and the items in it is also taking shape. This is the area of the game where the player can customise their Bot. Not only have we now got a nice collection of assets for use in The Hub, the system of unlocking content within it has been revised.
Drawing inspiration from the 'crafting' style of gameplay, with each win for the player in the core game they can earn XP and even bonus items for use in The Hub. Missions are the most lucrative – the player will be given specific challenges to fulfil to earn prizes.
It's worth pointing out – the addition of The Hub is not a paid feature. We are still only monetising SwapBots by selling toys. This is all just to add extra depth and a more custom experience for the player.
Character animations continue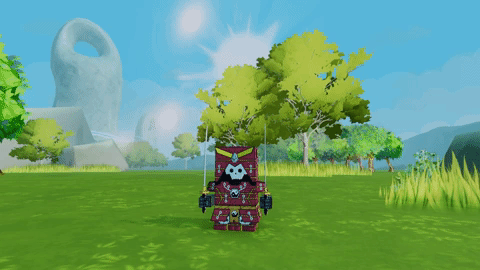 As you may have seen in previous updates, the addition of non-AR gameplay modes means that we can have more expressive and extensive animations.
With three pieces per character and each piece bestowed with its own moves, this is proving to be a long process. As the Bots all have different limbs and accessories the animations are mostly not transferable and each is unique.
However, more Bots are now fully animated with the rest to follow. And with more environments being designed, extra digital-only side-characters and a revised battle mode also being worked on, there has been plenty of progress this month.
Enjoy the sunshine!
Phil and the SwapBots team
Posted on 2nd July 2018 by swapbots